mmts train timings
updated on 26-Feb-2023
Like MMTS Train Timings Between Selected Stations

mmts timings in Hyderabad and Secunderbad.
MMTS Train Timings Details:
(MMTS)MMTStraintimings.in is an online MMTS train timings provider in Hyderabad and Secunderabad. It collects the updated MMTS train timings from south central railways and provides the dynamic search for mmts train timings. We are providing metro train timings in the routes such as Hyderabad to Lingampally, Falaknuma to Lingampally, Lingampally to Hyderabad, Falaknuma to Lingampally MMTS train timings. MMTS train timings from lingampally to secunderabad, mmts train timings from lingampally to hitechcity.We are planning to provide separate train timings table which are running from hitech city and Secunderabad.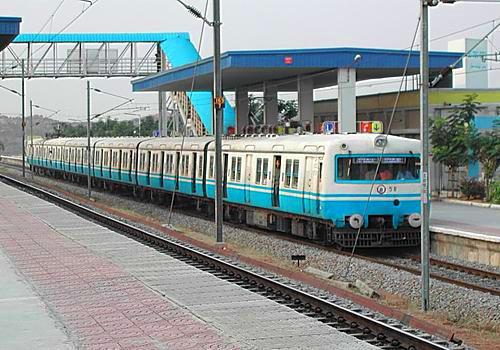 MMTS or Multi-Modal Transport System is a commuter rail system in Hyderabad, India. It is a joint partnership of Government of Andhra Pradesh and the South Central Railway, and is operated by the SCR railways.
First phase:
The first phase was completed at a cost of Rs. 178 crore (USD37 million, and started its operations on August 9, 2003. It covers a distance of 43 km, covering 27 stations and connects Secunderabad, Nampally, Dabirpura, Malakpet, Falaknuma, Madhapur and Lingampally. The Diesel Multiple Units (green local trains) complement the MMTS (white-blue trains) along few other routes like Bolaram (up to Manoharabad), Umdanagar etc.
Routes and timetable:
rail timetable:
Falaknuma to Lingampally
Lingampally to Falaknuma
Hyderabad to Lingampally
Lingampally to Hyderabad
Lingampally to Hitech city
Lingampally to Secunderabad
Secunderabad to Lingampally
Falaknuma to Hyderabad
Hyderabad to Falaknuma
mmts timetable
mmts timings

Route Map: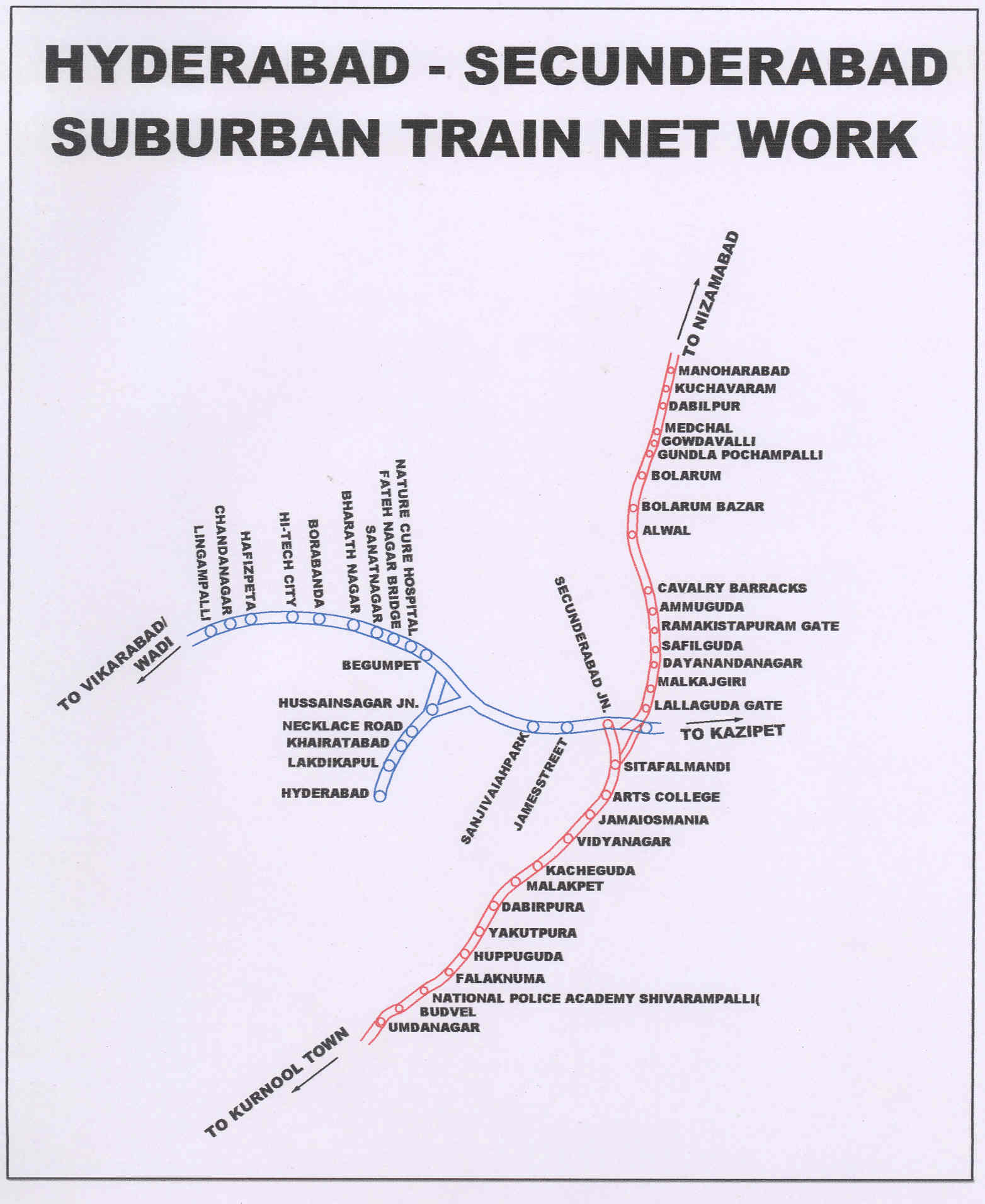 Train Fares updated on 21st Jan, 2013:
| Distance(km) | Rate(INR) |
| --- | --- |
| 0-10 | 5 |
| 10-15 | 10 |
| 15-20 | 10 |
| 20-25 | 10 |
| 25-30 | 10 |
| 30-35 | 10 |
| 35-40 | 15 |
Combined MMTS - RTC bus pass costs Rs. 800 per month with effect from Nov 9th,2013.
Second Phase:
In May 2010, Indian Railways has decided to take up the 107-km Phase-II project of the MMTS at an estimated cost of Rs. 641 crore. The Railway Board has cleared the Phase-II after the state government had agreed to fund two-third cost. It is expected to complete by 2012 and would handle 3 lakh passengers a day.
Second Phase has six segments:
Secunderabad - Bollarum - Medchal (28 km)
Falaknuma - Umdanagar - Shamshabad Airport (20 km)
Secunderabad - Moulali - Ghatkesar (19 km)
Moulali - Sanathnagar chord line (21 km)
Kacheguda - Sitaphalmandi - Malkajgiri - Moulali chord line (10 km)
"Good news for Hyderabadies, Today i.e. Dec 14th 2011, AP State government agreed to finance the 65 percent of cost for the MMTS phase-II project."
Union Minister of State for Railways K.H. Muniyappa has said works on Phase II of the Multi Modal Transport System (MMTS) in the State capital will commence in February 2012. The project's cost has been estimated at Rs. 640 Crores and 65/35 share basis by state and central government.
Second Phase is not yet started and people in hyderabad facing lot of problems with growing traffic Day by Day. MMTS trains are the best alternative for traffic problems.New local train construction work is also causing traffic problem in several area. I suggest using MMTS trains mean while though the connectivity is poor they are good transportation even for the connecting parts.
MMTS trains on sunday:
hyderabad local train services are limited on sunday. Some services which runs between 11 am to 3 pm are cancelled. Please check the mmts timetable before planing your journey on sunday in hyderabad. "*" marked trains in our time table won't run on sunday.
Mathrubhoomi special for Ladies:
SCR introduced ladies special trains on Sept 28th 2011 in FL route. These 2 trains(9 coaches each) will only run in Falaknuma to Lingampalli route.However these trains are underutilized and they are moving with empty coaches even in rush hours.People demanding for 2 or 3 coaches for gents in these trains and also mmts ladies special train timings are not comfortable for software employees who comes out for train at 6:30 pm.
People visit us using the following words : hyderabad local train timings,mmts hyderabad,train time table,mmts trains,train timings mmts.