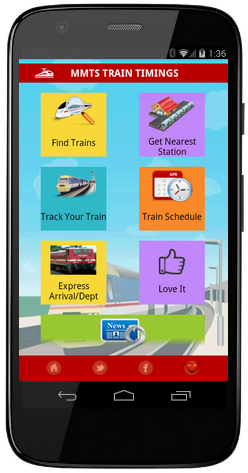 MMTS Hyderabad App
Version 1.2.5
MMTS Android App helps hyderabad mmts travellers with updated mmts timings and provides live tracking of mmts trains. It keeps track of your travel history and suggests the nearest mmts railways station on the go. This is the top rated and must have App for hyderabad mmts travellers.
updated mmts timings & Keep track of your travel history.
Live mmts tracking - Know your train current position
My Nearest Station - Get turn by turn directions to your nearest mmts station.
Expres Arrival/ Departure - Know your train platform number before reaching the station
MMTS Mobile App Description:
UPDATED MMTS TRAIN TIMINGS - 2023 - Track your Train Current Location - Live Status of your Train - MMTS Hyderabad Timings Updated on 26-Feb-2023
MMTSTraintimings.in, Provides updated MMTS timings in Twin cities and makes your local journey Joyful. It helps to find right train by giving options to select FROM and TO Stations and Time Between.
This App detects your current location and suggests nearest MMTS railway station along with route map with the help of google maps.
You can also track the location of your mmts train time to time to plan your journey.
This App provides metro train timings in the routes such as Hyderabad to Lingampally, Falaknuma to Lingampally, Lingampally to Hyderabad, Falaknuma to Lingampally MMTS train timings. MMTS train timings from lingampally to secunderabad, mmts train timings from lingampally to hitechcity.
Google play mmts App - keeps you updated with train cancellations and special trains on festival season
Download MMTS Android App
This is not an official mmts mobile app, created by mmts commuters